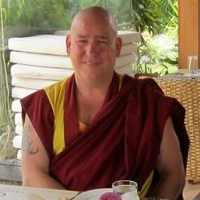 Venerable Tenzin Tharpa
A fully ordained American Buddhist monk in the Tibetan Gelug Tradition, Venerable Tharpa is a teacher, author, and philosopher with over two decades in Tibetan Buddhist studies, half of which spent in Tibetan Buddhist monasteries throughout India.
---
In 2010, Venerable Tharpa took formal monastic ordination with His Holiness the Fourteenth Dalai Lama in Dharamsala, India. While seeking novice ordination, His Holiness offered him the rare opportunity to receive both novice ordination and full ordination the same day. Subsequent to receiving full ordination, Venerable Tharpa accepted an invitation to be the first Westerner to study at the renowned Gyudmed Tantric Monastic University in South India. Well-known for his pragmatic, no-nonsense approach to the teachings, his ability to clarify complex philosophical points for all audiences, and his familiarity with all forms of Buddhist thought and non-Buddhist traditions as well, Venerable Tharpa is fast becoming a valued teacher for our modern multicultural age.
---
Buddhist Studies
Zen Buddhism – The Cleveland Buddhist Temple – Cleveland, Ohio, USA
Lama Tharchin – Pema Osel Ling, Santa Cruz, California, USA  – Tibetan Nyingma Tradition
Boulder Shambala Center – Boulder, Colorado, USA – Tibetan Kagyu Tradition
The Library of Tibetan Works and Archives – Dharamsala, India – Tibetan Tradition
Gyudmed Tantric Monastic University – Hunsur, South India – Tibetan Gelug Tradition
Sera Jey Monastic University – Bylakuppe, South India – Tibetan Gelug Tradition
Various meditation retreat centers and ashrams – Buddhist and non-Buddhist alike
---
In 2018, Venerable Tharpa finished his formal sutra studies at Sera Jey Monastery, marked by his culminating thesis and latest text Tibetan Buddhist Essentials. According to Venerable Tharpa, starting his education as an older monastic was challenging. Language studies were definitely more difficult, while being in classes with students young enough to be his children and/or grandchildren he found quite awkward. However, what proved to be the greatest limitation was simply not having the necessary years left in his life to undergo the usual study program (often more than twenty years in the Gelug tradition). Consequently, like other late-bloomers, Venerable Tharpa made the choice to follow an accelerated program of study in order to cover the traditional five major Buddhist treaties in a much shorter period of time, which would allow him adequate time for his tantric studies and subsequent retreats in order to put what he learned into practice. Venerable Tharpa says he feels very fortunate and grateful for the excellent education he received; an education and experience of the traditional Tibetan monastic study curriculum that is still very rare for Western Buddhist practitioners to possess.
Photo gallery of Venerable Tharpa's life
(Click on the first photo below to start the full-size slideshow)