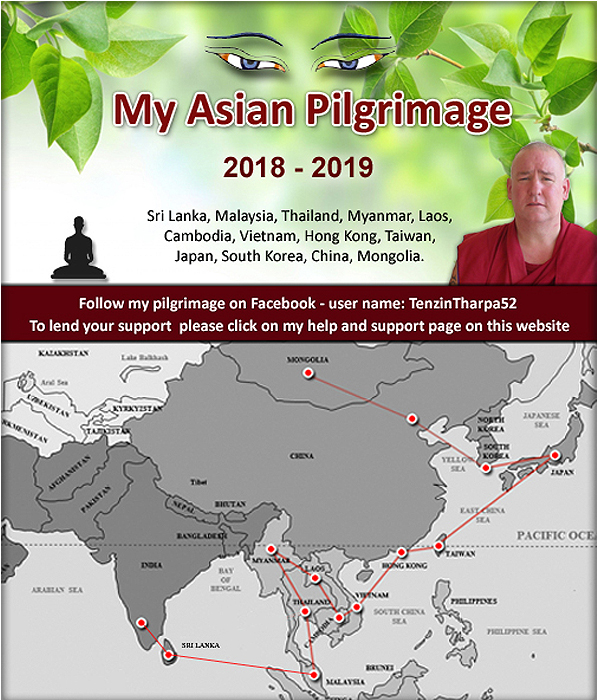 Hello friends. After almost 10 years, I have come to my last year in India. Next month my visa will expire and since my latest text Tibetan Buddhist Essentials marks the completion of my education here at Sera Jey Monastery, it's time for me to get out in the world and start sharing what I've learned. I've decided a great way of starting this new chapter in my life would be to undertake a pilgrimage of Buddhist Asia. So, next month on Oct. 1st I'll be departing India and will arrive in Sri Lanka beginning a 12-month pilgrimage which will carry me through Malaysia, Thailand, Myanmar, Laos, Cambodia, Vietnam, Hong Kong, Taiwan, Japan, South Korea, China, and Mongolia. If all goes well, I plan to travel from Mongolia, through Russia and begin a pilgrimage of Europe. I'll be traveling with only my begging bowl, backpack, and laptop for writing. My plan is to stay at monasteries of the different Buddhist traditions while gathering material on meditation and monasticism for future books. I will be surviving only on local alms (charity) for shelter, food, and land travel, although I will be dependent on online donations for any air travel, visas, and entry/exit fees…The adventure begins Oct. 1st.
You can follow my travels on facebook at: https://www.facebook.com/tenzin.tharpa.52
If you would like to participate in my journey by lending your support, please click on my help and support page on this website. Any help would be greatly appreciated.